JANUARY 6, 2009
Stories & games
After doing my presentation at Tri-C's annual Faculty Colloquium today, I went to two other sessions. The most fun and valuable was Using Story as a Tool for Connection in the Classroom, with Becky Cummings, an English teacher at Western Campus.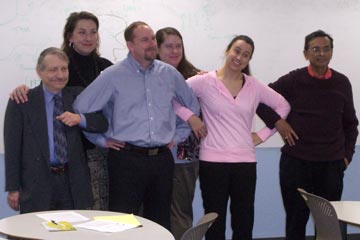 She started with a story based on her own life, then had the group—about 20 faculty members from various disciplines and campuses—try several games and exercises.
We moved from the easy and non-threatening Meet and Greet (ask four people their names and what they had for breakfast) to more challenging interactions, like Statue.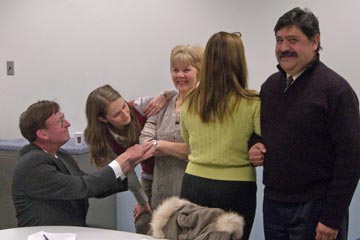 Statue was done with groups of five. One person started by striking a pose. Each of the others joined him/her, touching in some way. When the whole group was together the rest of us had to describe what story we saw in their position.
In the photos you see how it worked. I'm interested in the progression of poses. The first group (top picture) took pretty stiff standing poses. The second group was more animated, with more action and variety.
I don't have a picture of the third group, which I was in, but the poses were more unusual still, with one person lying on the floor clutching the toe of my shoe.
I think that each group without any specific discussion tried to push the boundaries set by the one before, an impulse that we might be able to use to our advantage in structuring group activities for students.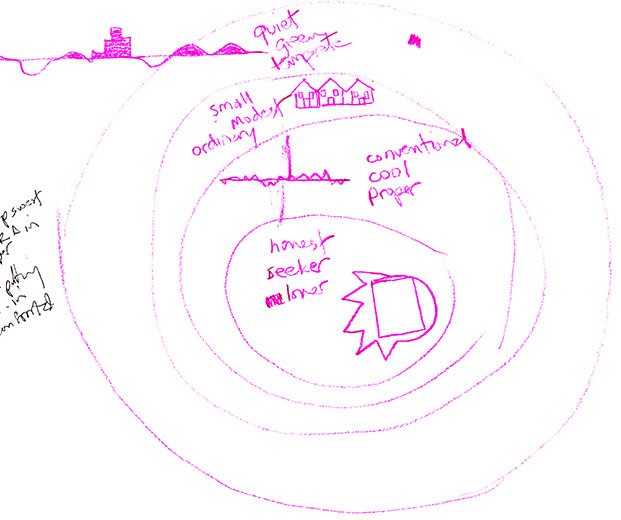 Another exercise called Circle of Self has you put yourself in context using words and symbols. (mouseover image to see more >> )
Step one is the write three words that describe yourself and then draw a visual representation of some sort. In step two you describe/draw your family, step three the street you grew up on, and step four the state you live in.
The goal of this is to explore how we see ourselves and the world around us. After creating our circles we got together in small groups to compare and discuss our individual stories.
To sum up, the workshop gave us all ideas and experiences that we can use to help students get to know each other, an important factor in a successful class of any kind. I'm still thinking about ways to harness this type of activity to focus on specific class content. If students get enthused about telling a certain story they would undoubtedly be more motivated to learn the skills and technology needed to express it.
Top | |