I've seen the future, and it looks like...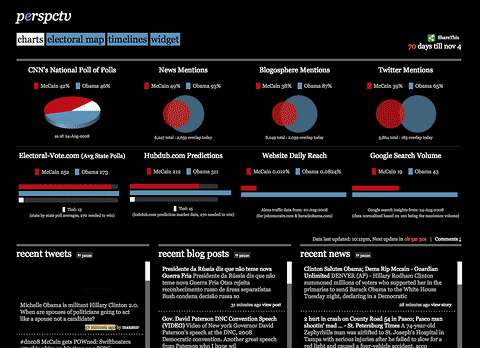 This screenshot of the Perspctv.com homepage is important not because of its content, although if you're an election news junkie you'll love it. It's important because it shows what I think is the form the web—or more broadly our online experience—will increasingly take.
The Perspctv site, created by vineet_sc, has essentially no content of its own except for its format and presentation. The information is pulled from other online sources—CNN, Twitter, Google, Alexa, and other sites—and formatted to reveal information relationships that might otherwise go unnoticed. As information available to us via the web continues to explode, this service of picking the best in a particular category and displaying it in a form that makes it more understandable will become more and more valuable. It is what I think we'll soon be calling...
Web 3.0
We're currently in the era of Web 2.0. If you're not sure what this means, you'll find articles here, here, and here. No one knows what's next, but I'm guessing that Web 3.0 will look a lot like Perspctv.com and Modernista.com (discussed here).
The emphasis will shift even more to information design rather than graphic design (clear and understandable trumps pretty). Designers will need to become programmers, or learn to work collaboratively with them. And so on.
A couple of articles that serendipitously appeared in my email today seem to be saying similar things: HP executive Shane Robinson talks about an "intelligent dynamic web" in Everything as a Service and Google CEO Eric Schmidt describes Web 3.0 as "data in the cloud," "pieced together" and "very customizable."
Hold on to your hats, web designers, things are still evolving!

What do you think Web 3.0 will bring? Does this excite you or terrify you? Add a comment and/or read others by clicking below.
Top | |