Santa Fe Community College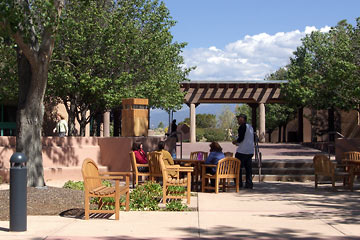 Deni, who works and teaches at Santa Fe Community College, was my tour guide to the city last night, and this morning introduced me to a number of faculty at the college. I had the opportunity to see their fantastic art and design studios and work spaces—made me jealous.
Even though SFCC has only about 4,000 students, their campus seems larger than Cuyahoga Community College's 15,000 student Western Campus where I teach.
The setting is lovely, with a feeling of wide-open spaces both indoors and out. Sitting in this courtyard you can look out to mountains in the distance. What's not to like about this? Right now I'm taking advantage of the college-wide wireless network to get some work done.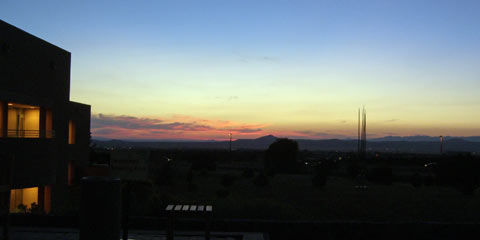 A couple of hours later I ate chicken tortilla soup from the cafeteria and watched the sunset from an outdoor patio.
I'd give the soup a B, the view A+.

Have any good travel stories? Add your comment by clicking below.
Top | | i