Newport + Dylan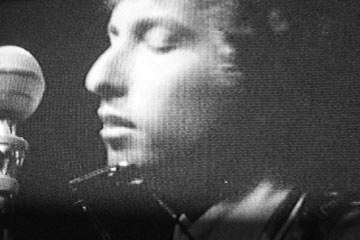 Watched The Other Side of the Mirror tonight, a stark, understated documentary that shows Bob Dylan at the Newport Folk Festival in 1963, 1964 and 1965. You watch him change from a painfully boyish singer with an acoustic guitar to a rock star with an attitude—before there were rock stars.
1965 was the year that Dylan baffled, outraged and stunned the Newport audience with his electric set and a band that included Al Kooper and Mike Blumfield, later of the Paul Butterfield Blues Band.
1965 was the year that I was a senior in high school—an all-boys Catholic high school—and Dylan was just starting to hit our consciousness. I remember my friend Bruce got Dylan's Freewheelin' album and one night painstakingly wrote out the complete lyrics to A Hard Rain's a Gonna Fall. We passed them around in Religion class and felt like we tuning in to something more significant than catechism. The film brought some of that feeling back to me.
Listening to the music and seeing how innocent and naive both the performers and the audiences were reminded me of how for a time we thought music could change the world. A few of the songs even now sent a shiver up my spine, but I no longer expect that they—or we—are likely to bring much change to the world. I'm not proud of my more cynical view, but as Dylan might say "I was so much older then, I'm younger than that now."
If you're not a fan of Dylan, skip this movie. There's no narration and little content other than shots of Dylan performing. The pace is slow and the camera work and editing plain and simple, intentionally so. You watch Dylan evolve as a performer and a songwriter during a particularly significant time. You draw your own conclusions. I enjoyed it, but actually would have liked a bit more context and/or viewpoint. The film seemed to lack a personality of its own, which for some may be it's greatest strength.

What do you think of The Other Side of the Mirror? Add your comment by clicking below.
Top | |