Diversity & theology at Edgewater Park
I was surprised at how few people of color we saw during our recent visit to Switzerland, Germany and the Netherlands. OK, maybe not so surprising to see only white faces in a little Swiss mountain town, but even big city Amsterdam and Stuttgart were overwhelmingly Caucasian. Today when I biked to Edgewater Park I was back in the more familiar multi-racial, multi-ethnic stew that is Cleveland's lakefront park. And on this day dueling theologies were added to the mix.
When I ran the first of my usual four laps around the lower section of the park I noticed a small microphone and amplifier set up near some picnic tables. On my second lap I heard a lone guitarist singing about "Jesus, Lamb of God." This isn't my favorite theme, by a long shot, so I was amused to find that by my third lap a group of Hare Krishna musicians and devotees had started a lively drum, flute and finger-cymbal counterpoint not far away. On my last go-round I detoured past the Hare Krishnas, who seemed to be having a much better time than the Jesus folks. I'm not sure about their theology, but their music won hands down.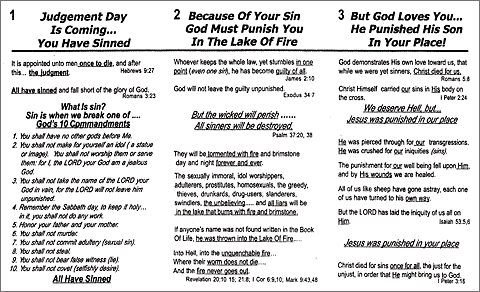 As for theology, pamphlets like this that littered the grass around the park tell me everything I need to know in the three headlines. It's really that ol' time religion.
Any god that loves me and demonstrates it by punishing his son (while still leaving me the Lake of Fire option) is not a god I could ever believe in.
What message does it send to fathers (and their sons) who believe in this God?
Top | |