Babysitting in the 'burbs, Pt. 2
Surviving another day and night with the grandkids in North Royalton (OK, right now there's a babysitter there while I do things like this).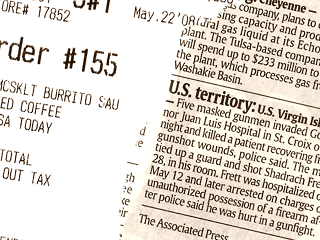 Last night was uneventful—as we like it—and after Xavier was on the school bus and the babysitter had arrived, I drove home via the nearest McDonald's. Not the best choice, but I'd been tempted by the ads for the McSkillet Burrito and the coffee is better than what I was able to make at Danny's house. Completing my version of an All-American breakfast I bought a copy of USA Today.
The news item from St. Croix, Virgin Islands—where the kids are vacationing right now—sounds all too familiar. Urban violence follows you even when you get away.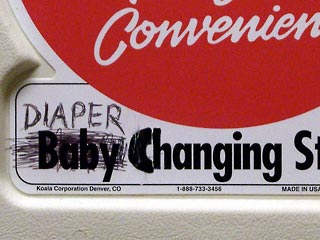 Not sure if it was an employee or a customer who took offense at the wording on the fold-down table attached to the restroom stall door. Maybe a disgruntled English teacher didn't want people confused by the purpose of the table.
Strictly speaking it is the diaper that's being changed—I guess—but "I'm going to change the baby" seems to be a pretty common usage. Well, I guess this is an improvement over what you see scrawled on most men's room stalls.
Top | |