Berkeley, Emeryville, San Francisco... and back.
Hard to believe, but my day in San Francisco, one of America's great cities, was oddly disappointing.
The day started off poorly. My carefully planned trip to the Amtrak station by public transportation imploded as I got off at the Berkeley Amtrak station, rather than Emeryville, where I planned to check my suitcase. There were no taxis, I didn't want to walk the mile or so between the two stations dragging that suitcase, and the next bus wasn't for a half hour. I'll spare you the details, but I ended up at the correct station an hour later and had to pay the bus fare twice.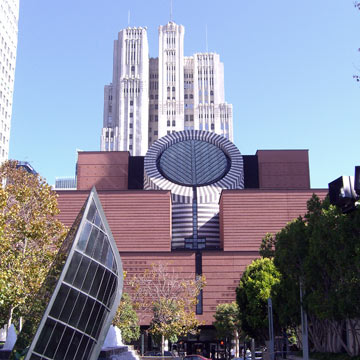 I rode into San Francisco with Carolyn from Expression College, who was taking her students on a field trip to the San Francsco Museum of Modern Art (the brick and stone building at right). The hour or so at SF MOMA was good, as was the butternut squash soup I had at its cafe.
Afterwards, though, I had no plans on what to do for the next eight hours. I picked up a tourist map and sat at Starbucks for a while trying to decide where to go next, but nothing seemed particularly interesting.
I tried to contact someone at Academy of Art University, but had no success. I was torn between trying to do something related to my sabbatical or just be a tourist, and never actually reached a decision. I kind of floundered.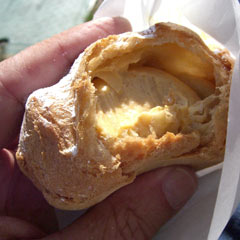 I sat in the sun in Yerba Buena Gardens for awhile.
I enjoyed a pumpkin cream puff—at $2.25 the best deal of the day by far. [Update: the store is called Beard Papa at 99 Yerba Buena Lane]
Then I wandered. I located the BART station on Powell Street that I'd use to get back to the Amtrak station, then walked toward Chinatown in search of an early supper. I didn't realize it was uphill most of the way or I'd have bought a ticket for the cable car.
Instead I walked, and walked some more.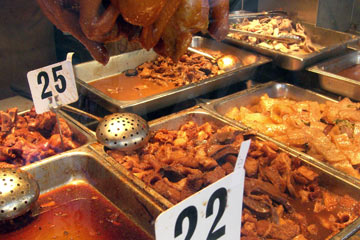 In Chinatown I must have missed the main restaurant area, finding more groceries than restaurants. The fruits and vegetables on display—only some of them recognizable—were interesting. I peered in the windows of shops selling meat, seafood and prepared foods. I checked menus and looked to see if nayone was eating at the restaurants I passed.
Eventually I went back to a noodle shop I'd gone by earlier that had several patrons even at 5 p.m. The Chicken and Scrambled Egg on Crispy Noodles I ordered was OK but not memorable. Pretty disappointed considering that I was in the heart of one of the country's biggest Chinatowns.
After my morning misadventure I was pretty paranoid about getting back to the station on time, so hopped on a BART Red Line train and then the Emeryville Go Round shuttle. I was strangely comforted to walk into the Amtrak station at 8 p.m. I was less enthused to find out the northbound Coast Starlight was running at least a half hour late, meaning I'd be waiting for two and a half hours (or more).
So here I am, after reading an abandoned USA Today, tapping away on my laptop.

Add your comment by clicking below.
Top | |