New kicks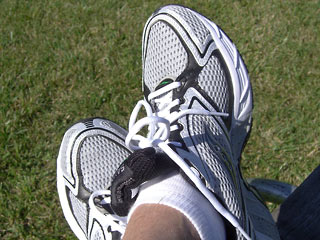 These were supposed to be new hiking boots, but Geiger's—my local sporting goods store—didn't have any that felt right, so I got new running shoes instead. For the amount of running I do (15-20 miles per week) the experts say you should replace your shoes every six months. Mine were probably two years old.
The new Sauconys felt pretty good, although I noticed a burning sensation on the ball of my left foot after running a couple of miles. I'm sure it has to do with how my weight is distributed wearing these shoes vs. the old ones. The impact falls on different places than it did before. I did notice that my legs felt fresher when I hit the last lap today. I was able to pick up the pace a bit more easily than last time.
The guy at Geiger's talked me into buying a pricey pair of Wigwam "moisture management" socks. He kind of sneered when I admitted to running in cotton socks much of the time. The new socks, made of a combination of synthetic fibers, felt comfortable but not noticeably different than any others. I don't know how they managed the moisture: they and my feet felt just as sweaty as usual when I took them off. I'll have to wear them a few more times before I know if they were worth the money.
[What about the new hiking boots?]
Top | |