Big guy in town
It's hard to miss LeBron James when you're in downtown Cleveland. On the wall of an office building near the intersection of Ontario and Prospect there's a 212 foot wide, 110 foot high billboard sponsored by Nike. That's close to 24,000 square feet of LeBron-ness.
When I walked by today I'm not sure which impressed me more: the billboard or the technology that let us create it. This monster was made with huge inkjet printers cranking out strips of mesh fabric about 9 feet wide which were sewn together and then attached to the building with hundreds of straps and grommets.
An earlier version of the billboard used 32 gallons of ink, 7,800 feet of thread, 300 grommets, and weighed 2,700 pounds.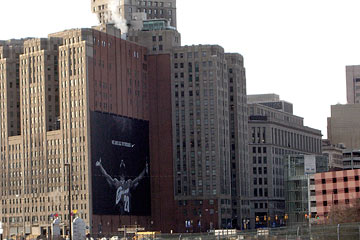 Yeah, it's big, even seen from a quarter-mile away.
Top | |

Time for the Sunset Pink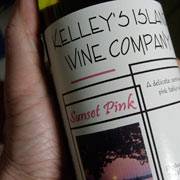 It's that time of the year: a cold February day that makes us long for the sunny warm days of summer. Which means it's time to break out the last bottle of Kelleys Island Sunset Pink wine, purchased in June for a day like today.
The house we rent on Kelleys Island is about a half mile from the winery, so we stop in from time to time and have gotten in the habit of buying a few bottles of wine to take home as we drive to the ferry for the last time.
Truth is, the wine isn't all that great. Sunset Pink is very sweet, more like alcoholic grape juice than anything else. But on a hot summer day on the island, sitting outside at the Kelleys Island Wine Company, it fits right in. And on a cold February night in Cleveland it reminds us that summer is only a few months away.
Top | |