Reading matter(s)
While visiting Chicago I took the opportunity to read a couple of books recommended by Sharon's best friend Jessie, whose house we stayed in.
On a couple of mornings I was the first one awake, so I brewed a pot of coffee and sat in the quiet living room to read. I started with The Principles of Uncertainty
by Maira Kalman, wife of the late Tibor Kalman.
How to describe it?
Highly personal. Artistic. Quirky. Thoughtful. Thought-provoking.
This is a book you can probably quickly judge by its cover. If the illustration and lettering by Kalman appeal to you, definitely read the book.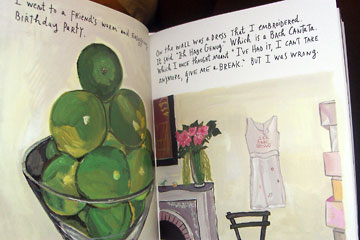 If they strike you as a bit too mannered and/or you don't like the style, flip through a few pages before deciding.
I really enjoyed it despite myself—visually the book is a little too artsy for my taste. On the other hand, it has so much personality that I felt like I was encountering a real person in its pages. The person was perceptive, honest, and a bit odd, but I liked her. She asked herself questions that made me stop and think. You might like to meet too.
More about The Principles of Uncertainty
(Amazon.com)
—> Other Chicago 2008 pics & stories: Signs & Fines; Indiana Dunes; Men Working; Logan Square

Have you read Principles of Uncertainty? Add a comment and/or read others by clicking below.
Top | |