Getting ready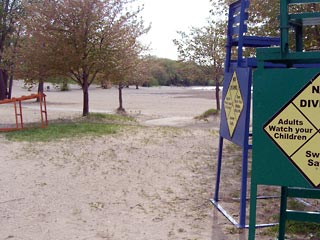 Memorial Day weekend is less than two weeks away, and the lifeguard chairs at Edgewater Park are out of storage, waiting to be moved to the beach. The beach itself is pretty clean, although I'm sure they'll do at least one more pass with the sand-sifting machine.
I drove to the park today after filling the back of my car with bags of recycling to drop off. The afternoon was sunny but almost too chilly to be wearing shorts. The sweatshirt was a good idea, for sure.
I ran four laps, 3.7 miles, and walked another lap. Felt good, especially after last week when I wanted to run but kept getting caught up in school work. That work is pretty much over, except for cleaning my office and putting away the remnants of this semester's classes. So I don't have an excuse to not get back into a running routine, hopefully every other day.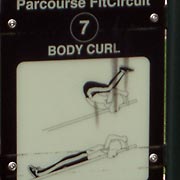 When I finished the last lap I tried a few body curls on the Parcourse equipment. I managed five of them, what they call "Sporting" par. Last year I got up to two sets of ten, although the very first time I tried it I could only manage one. So after more than six months off I'm happy with five.
All this healthy exercise worked up a thirst, so after I finished the bottle of water I brought to the park I went home and downed a cold Great Lakes Dortmunder. Aaah.
Top | |