Portland, Japanese Garden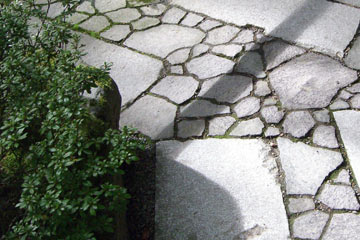 My friend Judy gave me a tour of Portland which included a leisurely walk through the Japanese Garden. Since I love Japanese gardens I deliberately spent most of my time enjoying it rather than taking pictures.
A couple of things struck me for odd reasons, and here they are: Variety is a key element of a Japanese garden, and this walkway that mixes irregular stones with rectangular ones gave me ideas for my own garden walk.
---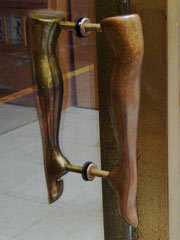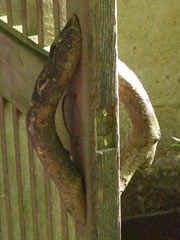 The curved wooden handles of this garden gate called to mind the handles I'd seen a couple of days ago on the door of a San Francisco lingerie store (and I'd appreciate it if you tried not to read anything too Freudian into this).
---
The water pouring into this basin makes a lovely sound. The square/diamond shapes of the basin are accentuated by the rounded stones under the water.
Water—waterfalls, pools, rivulets, basins, streams—was everywhere in the garden. Sometimes you'd sit and listen, other times stand and stare into their depths. But always water.

Is water as magical for you as for me? Add your comment by clicking below.
Top | |