Film & food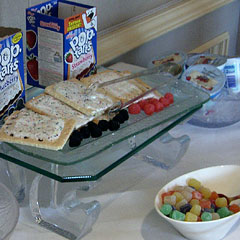 Today I introduced a film at the Cleveland International Film Festival, watched a different one (see below), then used my official "Guest" pass to visit the Hospitality Room at the Ritz-Carleton Hotel.
Yesterday the food selection wasn't fancy, but was good. Today they had cookies from a box (Pecan Sandies, I'm guessing) and Pop-Tarts. C'mon... it's the Ritz-Carleton. Pop-Tarts? You've gotta be kidding me.
But the coffee was good, anyway.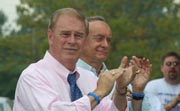 The film was Swing State, a documentary about Ohio's 2006 campaign for Governor and Lieutenant Governor, made by the son of Lee Fisher (candidate for Lieutenant Governor).
It was highly personal yet worked as a movie, too. Co-director Jason Fisher showed a great deal of affection for his father without being sappy or heavy-handed. The fact that a couple of Tri-C students were involved in the production made it all the more interesting.
---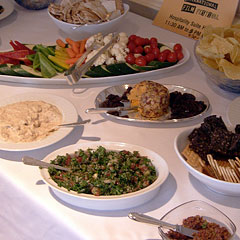 Yesterday's food selection had a vaguely Middle Eastern theme, with hummus, tabooli, baba ganoosh and pita bread among other things.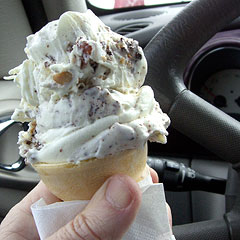 After my snack at the Ritz-Carleton I drove out to Parma, picked up a couple of things for my mom, stopped at Tri-C to get the flyers for the high school Web competition, and headed back home. It seemed entirely reasonable that I reward myself for my efforts by stopping at East Coast Custard.
One of the the flavors of the day was Almond Joy, right up there near the top of my personal list. It combines dark chocolate chunks, coconut and almond pieces. What's not to like about that?
Unfortunately the Bell's Palsy still has my tastebuds out of whack. One side of my tongue responds normally to flavors while the other has generic "sweetish" response with no individual characteristics. Makes everything taste wrong.
Top | |