Quiet night
It's 12:30 a.m. on July 4th, in Cleveland. I hear the window fan next door, a jet overhead on its way to the airport, and the clock on my wall ticking. For the first time in many, many years there are almost no explosions from fireworks.
It's kind of eerie, actually.

Anyone who lives in the city is accustomed to hearing fireworks nonstop from late June to July 6th or 7th. Last night, in fact, I remember repeated booms that sounded very large but fortunately far away.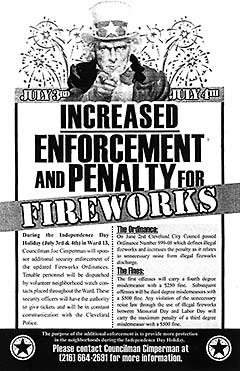 Tonight is different, and the flyer that was stuck in my side door helps explain the difference. Both the mayor and my local councilman announced that police would enforce the law against shooting off fireworks. The maximum fine has been increased from $75 to $500, and maybe, just maybe it's making a difference.
There's a grim backstory to this year's crackdown on illegal fireworks: last Fourth of July a Cleveland man killed three of his neighbors and wounded two others because he was angry with them for shooting off fireworks.
One of the comments heard over and over in discussions about the shooting was that calling the police to complain about fireworks was pointless, since they never did anything anyway.
Apparently at least a couple city officials heard this and took it seriously, and it's about time. It's not just the noise that was a problem, it was the obvious sense of near-anarchy as day after day you'd hear fireworks exploding at all hours.
Everyone knows shooting off fireworks is illegal. Last year everyone knew that no one would bother enforcing the law. This year is different, and that's a very good thing. Living in a city can be stressful, with noise, pollution, crime and other problems that crop up when lots of people live close together. Most of the time I'm very happy living on Cleveland's Near West Side, but the weeks around Fourth of July have always tested my love. Things may be looking up.
Top | |