Cheesy, in Chinese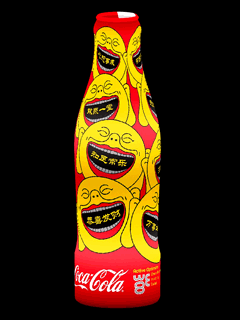 Wow. I never thought I'd consider an ordinary Coke bottle a paragon of good design, but then I saw this Coca-Cola WE8 special design.
According to the Coca-Cola website, WE8 means West + East, eight designers, eight musicians, eight themes = 1 whole world on the Coke side of life™.
Yuck.
This particular monstrosity by Chinese designer Chen Shaohua is based on the theme Active Optimism. There's an accompanying musical number by Jamaican artist Cezar that you'll hear if you go to the site.
Here's the official explanation of WE8:
To search out the answer to the questions: What opens your heart? What does good fortune look like? What makes you smile? How do you live in harmony with the environment? What do you wish for the world? What makes you happiest?

The result is we8: A vision and soundtrack that celebrates the infinite possibilities that await when the doors are flung wide— from East to West, from culture to culture, from me to you. The vision and soundtrack for a whole new world living on The Coke Side of Life™.
I don't know whether to laugh or cry™.
Does anyone really think that the world will be a better place because of Coke bottles?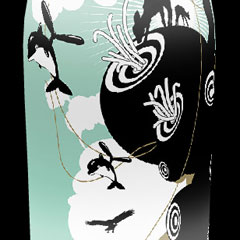 If you—like me—are unconvinced, take a look at Global Harmony by Xiao Xue and Peace on Earth by Joyn Viscom.
There, now do you see how it works? I feel more peaceful already.
Top | |

Visual search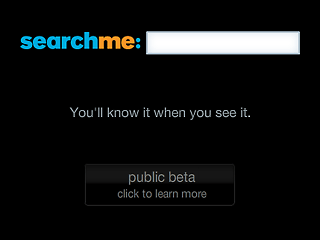 The searchme.com homepage made me smile. Six words tell me exactly what the site is about.
In the big bucks world of search engines, where Google is deservedly the top dog, others try to create new ways of finding information. SearchMe may be on to something here. I'm the kind of person who does judge a book by it's cover, so this looks good to me.
When you type your search words into the box you get results in the form of an iTunes-like row of pictures which show the webpages found by the search.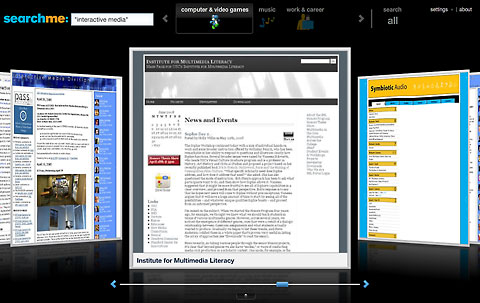 You get something like this:
By clicking on the images or using the slider below you can scroll through them, and by moving your mouse near the bottom you get a pop-up text panel with information from the site itself.
This is pretty interesting, but there's another helpful trick SearchMe does. After you type in your search words it suggests—via words and icons—several categories to choose from to make your search more specific to exactly what you want.

When I searched for "Interactive media" I was offered these possibilities:
With searches turning up tens or even hundreds of thousands of results, being able to specify a category could be very helpful.
It's actually kind of fun to click through the images. My sense is that I might look at more of them than I would when scanning pages of plain text, but that just may be the novelty of something new.
I tried searching for "interactive design," which in Google as of today (June 10, 2008) still ranks my older website, interactivedesignforum.com as number 3. Clearly SearchMe ranks sites using different methods: I clicked through over 100 webpage images without finding mine. But OK, we'll forgive them for that. It's still a fun and potentially productive way to search the web.
Top | |