Mother's Day
Well, I never bought the new stove I'd planned as a Mother's Day present for Joanne. After two trips to Sears last week I decided I'd try one more store, and just ran out of time. Next week for sure.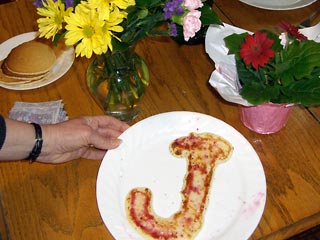 But in keeping with a long-standing tradition, I made pancakes for breakfast today. I like cooking breakfast in general (it's my favorite meal of the day), and pancakes have become my specialty. Our kids used to love them—still do—so Sunday pancake breakfasts became the standard when they had friends sleep over. Our friends sometimes get slightly fancier omelets, but you just can't go wrong with pancakes.
Today I decided to give Joanne the same "extra" that the kids usually got: the last of the pancake batter made into the shape of their initial. Joanne has already spread raspberry jelly on hers, accounting for the red areas.
When we visited Danny's house today I noticed a griddle on the stove, making me think that he's continuing the pancake breakfast tradition.
Top | |