Blintzes...again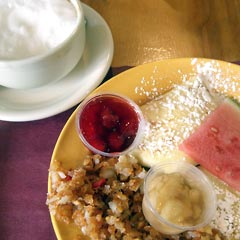 I kind of pride myself on trying different things, not getting in a rut. I don't even eat the same thing for breakfast every day. So when we went to the West Side Market Cafe today the blintzes & homefries seemed to be an interesting choice. They look nice in the picture, along with that foamy cappuccino.
Tonight I looked back to see what I'd written after an earlier visit in May. Guess what? Blintzes. With a cappuccino. And a nice picture. Guess I'm not as unpredictable as I think.
Hmmm...what else today? Picked up a couple of early Christmas gifts on sale at Home Depot, took an empty toner cartridge back to Staples to be recycled. Learned that Staples gives you $3 when you bring back an empty HP cartridge, but nothing when you bring back a Staples brand. Something seems wrong about that.
It took a bit of discussion with the cashier to get this straight, since she insisted that they didn't recycle their own brand. Apparently she meant that they didn't pay you to recycle it. I hope that she didn't just throw it in the trash when I left. She promised it would be recycled.
Top | |