CSS secret revealed, people go home happy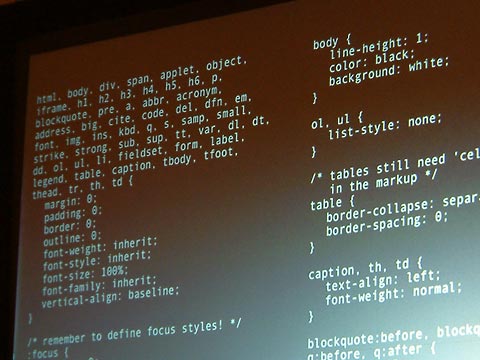 A revelation to some who attended Tuesday's Web MeetUp session on basic CSS (Cascading Style Sheets) was that every browser has its own built-in CSS default values that can wreak havoc with your website.
The solution? The Meyer Reset, a hefty chunk of CSS that you put at the top of your style sheet to make browsers behave more consistently. You see most of it in the photo at right taken during a presentation at An Event Apart in Chicago last August.
Back at our Cleveland meeting, just like when people change diet plans or religions there were enthusiastic testimonials as to how the Meyer Reset has changed web designers' lives for the better.
The reset deals with problems caused by the browser's default values. These default values are different in Internet Explorer, Firefox, and virtually every browser. So what? Well, when you—the designer/coder—starts adding your own values for these properties, what you thought you'd see might look different. The browser's default values and yours aren't playing together nicely. Here, Eric Meyer explains it well himself.
A truly nice guy who's also one of the world's CSS experts and author of six books, Eric happens to live in Cleveland Heights. Nice to have such talent in our own backyard.
Top | |