Added value?
If you've been visiting this site for a while you may have noticed additions that I hope have made it more interesting and useful. My goal is to give you opportunities to interact with me or things I'm discussing. Please let me know what you think of them.
SnapShots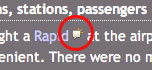 If you haven't already discovered this, the "balloon" icon that appears at the end of each link to another website does a little trick: hold your mouse over the icon and you'll see a miniature version of the webpage, or if it's a Wikipedia entry, you'll see a short version of the entry itself.
Try it here: website - OR - Wikipedia entry
This service is provided by Snap.com free to the website developer. They claim that more than a million sites use SnapShots. The product has improved greatly in the five months that I've been using it: more options (audio and video previews too) and the screenshots seem to be very up-to-date.
I was dismayed however, to get an email today saying that they will begin including advertising with each SnapShot. I'm not sure what form this will take and how annoying it will be. If it's too bad I may abandon the otherwise helpful and amusing SnapShot feature.
HaloScan comments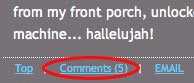 Since the ability to add your own comments to an article is one of the features that defines a blog, I needed to find an easy way to do this without any programming on my part. I wanted a user-friendly free service, and found it with Haloscan.
With lots of features and easy installation, what's not to like about it?
Well, the free version includes ads to help pay for the service. The solution: send them the extremely reasonable $12 yearly fee for "Premium" service, which is ad-free. A heck of a deal.
AddThis widget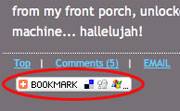 True to form I'm months and months behind the curve in not slapping the ubiquitous little Digg, Furl, etc. icons after every article to give you an easy way to add social bookmarks.
And once again I searched for a simple, free, easy-to-install way to provide this function. My search led me to AddThis.com. Today is its first day on this site, so by all means give it a try.
Something I like a lot about this approach is that one icon and one click gives you access to more than 30 bookmarking services, including Digg, Del.icio.us, StumbleUpon, Furl, Magnolia, etc.
Now, while I dearly love my current regular users/readers (all ten of you), I'd like to reach a few more people. This could happen if people like you started to bookmark articles they like. Now you can do it quickly and easily. So don't just sit there, start bookmarking!
Search
And last but not least, there's a new Search feature on the home page that will soon appear on every page. This is yet another free service that unfortunately is pretty ad-heavy, but functional. From Atomz, read more about it here.
Top | |