The Buckeyes at the Parkview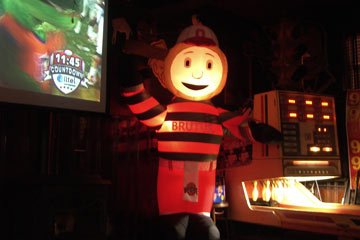 A six-foot inflatable Brutus the Buckeye mascot faced us from our table near the big video screens at the Parkview before the start of tonight's OSU/LSU football game. I was there because watching the Ohio State Buckeyes in a championship game with Joe and Rich is generally my one "guy thing" each year.
We drank some beer, cheered a little, groaned a lot, and left before the end when it became clear that OSU had no chance whatsoever of pulling the game out of deep pit they'd dug for themselves.
Since I'm not a big fan to start with, the loss was no big deal, but it's always more fun to be in a bar when the team wins, or at least stays competitive all the way through. This year the place was pretty quiet after the first quarter, when things began to go downhill. We only heard "Hang On Sloopy" three or four times (that's how bad the game was).
Top | |