Have you found what you're interested in?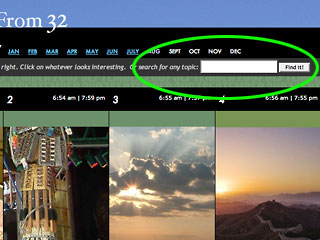 If not, finally you can search this site. It's easy, just go to the home page and type the name of any topic you're interested in into the search box near the top of the page.
As of today there are 265 pages indexed, meaning lots of stuff that you may never have seen before. This feature has been way too long coming, but better late than never...
OOPS.
Shit! The search function isn't working, and it's too late to fix it tonight. I'm going to remove it from the home page until I can make sure it works. Maybe tomorrow.
If you're reading this anytime after Sept. 8, 2007 I hope this problem is only a historical footnote. If you're reading it on Sept. 8, 2007, sorry.
TOP | | |
ARCHIVE
SEPTEMBER
AUGUST
JULY
JUNE
MAY
APRIL
http://www.veryshortlist.com/images/days/255_chart.gif