More classes, more students
Yesterday it was Media Design and Intro to Visual Communication. Today was the first day for Web Publishing I and a different group of Intro to Visual Communication students. Now the semester is truly underway, since all my classes have met at least once.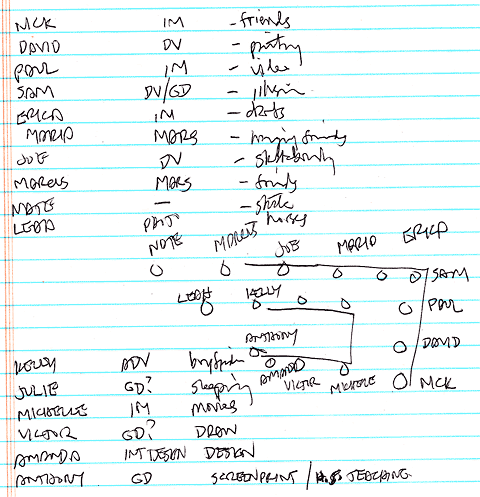 One small bit of professionalism I strive for is to learn every student's name within the first month or so (hopefully sooner).
Since my classes have a maximum of 18 students, this isn't a huge accomplishment, but on the other hand, three of the four classes meet only once a week in person, so it's easy to forget who is who.
I've tried various name-learning strategies over the years. In my Intro to VC class today I asked everyone to say their name, major, and what they'd be doing if they weren't in class.
The personal question often makes the name & face stick in my mind. So Leah who likes horses, and Sam who is an illusionist (magician?) are easier to remember than just Sam and Leah.
For the many instructors who have class of 100 or more, I don't envy your task!
TOP | | |
Geeks rock on!
Ultimately An Event Apart was mostly a big room in the Chicago Marriott full of seriously geeky folks. This photo/animation by Paul Annett shows us in our rock concert mode. More from Aug. 26 and Aug. 27.

In case you're wondering, I'm in the second row, left of the aisle, with an orange t-shirt. Rock on!
Something I learned
From Jeffrey Zeldman, web design guru and co-founder of An Event Apart, a thought that I plan to share with as many students as I can:
It's about selling ideas, not pixels.
Students (and some professionals) too often get caught up in making things look "cool" with little or no regard for what they are communicating. They focus on learning software without developing similar skills in learning to use the built in tool we all share, the human brain.
Zeldman got it short & sweet: ideas, not pixels.
More advice
Only indirectly related to AEA, but still connected is this from Joshua Porter's blog, Five Principles to Design By:
Technology Serves Humans.
Design is not Art.
The Experience Belongs to the User
Great Design is Invisible.
Simplicity is the Ultimate Sophistication
Maybe related to Zeldman's point above, maybe not. Good advice, even though I don't totally agree with every point. How about you? Tell us what you think by clicking COMMENTS below.
TOP | | |
ARCHIVE
AUGUST
JULY
JUNE
MAY
APRIL
http://www.veryshortlist.com/images/days/255_chart.gif