DECEMBER 28, 2008
Digital but disappointing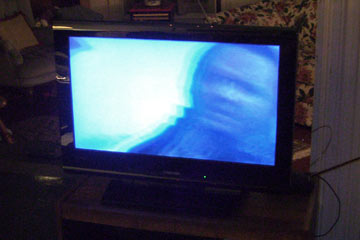 With the upcoming switch to all-digital broadcasting we had a decision to make: keep the old TV with its many problems (big, hulking, heavy, lack of modern connectors for DVD, etc.) or buy a new digital-ready model.
Since Joanne had told me many times how she hated the big old TV I thought a new flat screen LCD model would solve our problems and make a nice gift.
I watched the sales, researched on the web, and finally found a 26" Toshiba at a good price. I was happy.
Today I set it up, plugged it in, and was seriously bummed out. For starters, the reception is much worse than the old one. I don't know if a different antenna will help, but this is a big step backwards. Assuming we can fix that, we're left another issue, the picture quality. I remember this from the first time I fired up an LCD monitor after using CRT (cathode ray tube) monitors for years. Because of how the image is created, the picture on an LCD screen seems harsh and choppy compared to the softer, somewhat fuzzy CRT.
This is a matter of taste, of course, and I've come to like my LCD computer monitor. Not sure about the TV. For now I'm basically regretting the decision. I guess we'll live with it for a few days and see how it seems then.
Not digital, not disappointing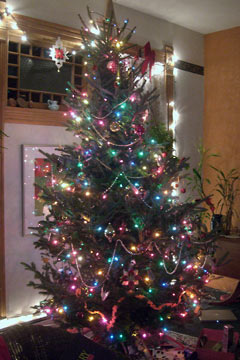 Here's our old-fashioned Christmas tree, looking like it should in our middle room. At eight and a half feet it nearly touches the ceilling. It's kinda skinny, with a flat side that we had to turn toward the wall. I'm happy with it.
Top | |