Goodbye.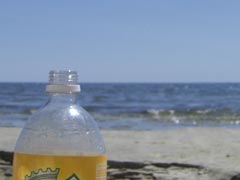 After cleaning our stuff out of the house, packing it all into the car—including bags full of empty bottles to recycle—and putting the bikes on the bike rack, we headed down to the beach for our traditional last drink by the lake.
This year Joanne took what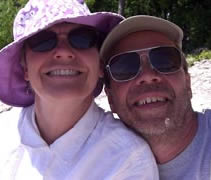 was left of the tonic, poured in some gin, added a piece of lime, and we just swigged it out of the bottle. Not elegant, but efficient.
We snapped a parting shot to close out the vacation. You can see we're pretty relaxed after two weeks on the island.
TOP | | |