Salsa, here we come
After two weeks of getting up at 5:50 a.m. to watch the sunrise at Kelleys Island (check the homepage and June 15-28 to see for yourself) I slept in today. Got up about 7:30.
I was thrilled when I went to the garden and saw two jalapeno peppers big enough to pick. Around dinner time I picked the bigger of the two and combined it with onion, tomato, fresh cilantro from the garden, a few raspberries from our bushes and a peach we bought on the way home to make a tasty salsa. Later in the summer when our tomatoes are ripe this will become a regular thing.
The eggplants have blossoms, as do many of the tomatoes and other peppers, so we're on our way. The basil, dill, cilantro and parsley are all flourishing too, helped along by the regular rain we've been getting.
Suburbia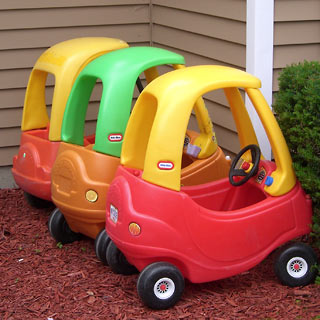 Only one of my grandkids who live in North Royalton is big enough for the popular Little Tykes Cozy Coupe, but she has her choice of three parked outside her house.
At least we can be thankful it's not the pink and purple Princess version that comes with its own "pretend cell phone." I'm sure when he's a little older her brother will have his own Pickup Truck.
Top | |