Updates
Chrome
Oops. Yesterday I promised to download Google's new browser, Chrome, and report on how it works. Well, I never got around to that. The best I can do today is to give you another link, this time to a review of reviews of Chrome.
Garden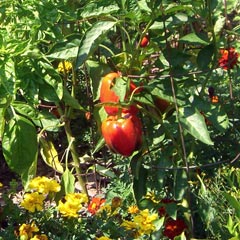 If you've been following my gardening adventures you may be interested to know that the peppers (red, yellow and jalapeno) are thriving. The ones I started from seed, well, maybe "thriving" isn't the best word. Surviving.
The three eggplants are a puzzle to me. The first to produce a full-grown eggplant has no others developing. The plant whose fruit (?) I picked a few days ago has a couple of blossoms that may develop, but the plant that hasn't produced anything yet has about six small ones now. I don't get it.
Tomatoes are producing well, although the Romas usually fall off the vine before they're fully ripe. Doesn't happen with any of the other types.
Not sure if it's because of the marigolds I planted between the vegetables, but very little insect damage to any of the veggies.
Sabbatical
I'm not teaching this year. Instead I'll be talking with college educators around the country about how they teach design courses that depend on computers & software. To start things off I posted an online survey that will give me an general sense of what people are teaching and how. I'm hoping for 50-100 responses, which seems to be a respectable sample. As of today the number of completed surveys is 52, so I'm cautiously optimistic that the final figure will be 65-70. I can live with that.
If you're a college design educator—full time, part time or grad student—and you'd like to take the survey, use the link below. It's quick and easy, will take only 5-10 minutes of your time:
Teaching Design, Teaching Software survey
Travel
If you're a glutton for punishment, I've posted more (and larger) travel photos and videos from our recent European trip as a VoiceThread. VoiceThread allows anyone to leave spoken or written comments on each image. It's fun to use—I'd love to read/hear your comments:
Al & Joanne's European Trip 2008

What do you think? Add your comment by clicking below.
Top | |