Chicago, Logan Square
There are other photos and stories from last week's trip to Chicago here, here and here. These are a few I didn't include earlier.
One morning we took the Blue Line to Logan Square and wandered around the farmers' market while we were waiting for a table at a nearby restaurant.
This display of beautiful heirloom tomatoes makes following the "buy local" advice of Barbara Kingsolver and Michael Pollen easy.
Brunch at Lula
We waited about forty minutes for a table, but the food at Logan Square's Lula Cafe was worth it. I went for the "Whole wheat and walnut pancakes with Klug farm white grapes, maple whipped cream, and chocolate fudge."
The chocolate fudge was unnecessary, didn't add much, but the rest was good. Since they were whole wheat cakes I didn't feel like I was totally ignoring nutrition.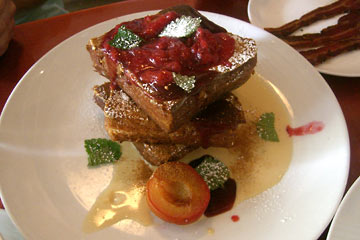 Sharon ordered my second choice, "Yogurt custard stuffed brioche french toast with roasted plums, fresh lemon balm, and coddled cream."
OK, maybe these combinations are a little over the top, but these are the brunch specials. The breakfast menu has your basic bagels, eggs, and oatmeal too.
Interactivity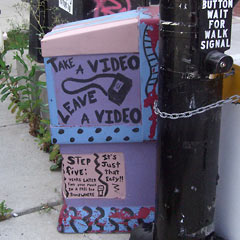 This re-purposed newspaper box on a street corner is a low-tech, honor system video exchange. You put your old tapes in and take out any that interest you. Nearby a similar box does the same with books. Both of them had a selection of interesting titles inside.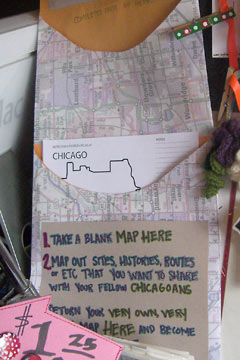 On a counter in a local craft store was this rack holding blank maps of Chicago. The idea is to create your own map of places, events and routes in Chicago that are meaningful to you.
The project was created by AREA (Arts / Research / Education / Activism) Chicago with the goal of creating a "People's Atlas" of the city based on the perceptions and experiences of ordinary people.
I love the open-ended participatory nature of this. Also the simplicity. Unfortunately, the clerk told me, lots of people take the blank maps but few turn in finished ones. You can see what there is on the People's Atlas website.
I took a blank map—haven't made it mine yet, but I plan to draw the El routes that I've traveled on. I know this will show vast unexplored areas of the city.

Do you have any favorite Chicago stories? Add a comment and/or read others by clicking below.
Top | |