Frank Gehry and funnel cake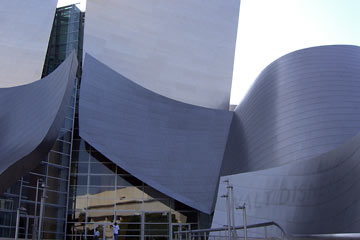 I'm a big fan of Frank Gehry's swooping, soaring titanium buildings like the Peter B. Lewis building in Cleveland and the Walt Disney Hall in Los Angeles. As luck would have it, both I and the Philharmonic were in LA this weekend. It seemed like an opportunity too good to pass up.
I'd walked around the buiding and through the lobby in a visit a few years back—loved it—and wanted to know how it performed as a concert hall. We've all heard stories of buildings that look great but don't function very well. In fact there are a few of them related to Disney Hall, like the way reflections from the exterior nearly blinded people in apartments across the street. So hearing a concert would be the acid test.
By the time I looked online, the "cheap" seats were sold out, and my sister-in-law Mary and I had to spring $75 apiece for seats in Row A of the West Terrace. On the seating map these looked pretty good, and in reality they were fantastic.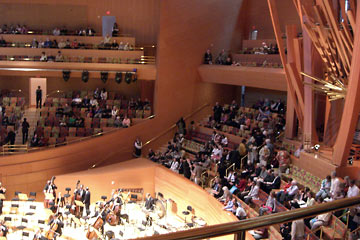 From our front row seats we looked down on the orchestra and were able to see the conductor's face. It was a view unlike any I've ever had, and I found myself spending more time watching the musicians than listening to the music. A couple of times I had to close my eyes to concentrate on the sound.
The concert was glorious, especially the final piece, Ravel's Bolero. The music starts slowly and quietly with an insistent drumbeat, then gradually builds to a huge finale. There was such a sense of momentum, like an avalanche of sound cascading down a mountain. It was thrilling.
Disney Hall passed my test with flying colors. Thank you, Mr. Gehry, for this wonderful place.
---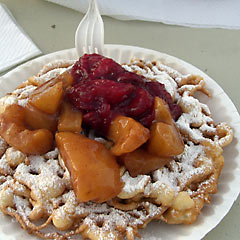 After soaking in the high culture of the concert hall, Mary and I were hungry, and the solution to that problem was at hand. My niece Elizabeth was working at her church festival selling tacos, so we had our supper plans all taken care of.
We got to the festival around 5:30 and each had roasted ear of corn on the cob as an appetizer. Then the main course: chicken tacos for me, a meatball sub for Mary. Dessert was a funnel cake, deep-fried dough with powdered sugar and fruit on top. Yum.
In about six hours we'd gone from the suburbs to the city and back, enjoying both high culture and low culture at its best.

Add your comment by clicking below.
Top | | i