Sunset, Franklin Avenue.
It was much more wonderful in person, of course. We were walking home and the sky was a confection of puffy orange-pink clouds against blue.
At the very end of the street the sun was blazing away at it sank below the horizon.
If the yellow storefront looks familiar, it's because a few weeks back I walked past headed the other way on a snowy day and stopped to take a picture.
The building houses a Vietnamese Buddhist temple on Franklin near West 54th.
Top | |

Clean at last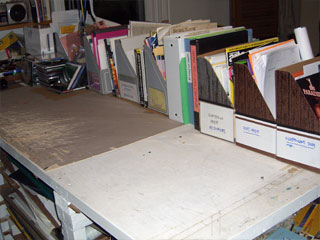 Finally you can see the top of the desk, after a mere two hours sorting and rearranging. Every once in a while I get the urge to clear away the rubble, either at home or at work.
This time it was my home worktable that got cleaned up. The biggest help was a batch of cardboard file boxes that I bought online (couldn't find them in my local Staples). You can see the two shiny new fake woodgrain boxes at the right.
As usual, having a place for things makes organizing possible, but first you have to invest time and money into getting things ready. I desperately need more bookshelves since mine are jammed tight, meaning that there are piles of unshelved books stacked here and there.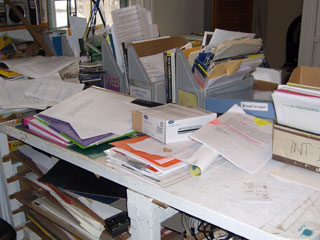 The "before" picture isn't even as bad as it had been. I'd already cleared away some of the stacks of stuff. A couple of weeks ago the piles were so high that I'd put a book or binder on one and it would start an avalanche off the table onto the floor.
Top | |