Tech support
One of the things I look for when choosing a web hosting service is telephone tech support, not just email . Of course I try to find a host that's reliable and reasonably priced, too. I've used an outfit called ICDSoft.com for a number of my clients' sites and have been pretty happy even though ICDSoft provides only email tech support. On the rare occasions that I've had to use it they've lived up to their one-hour response promise. But for my personal sites (this one and its older incarnations, 44113.com and InteractiveDesignForum.com) I've used pair.com for years. Today reminded me of why I switched to them in the first place.
Sometime in the middle of the day as I was updating the site, the CSS style sheets stopped working on the July pages. It was as if they weren't there anymore. Without the style sheet the pages look very plain, as they did on April 5th, CSS Naked Day.
I tried all the obvious things, making sure the files where where they should be (they were) and linked properly (yep). I even renamed the style sheet file and relinked to it, thinking that perhaps it had gotten corrupted somehow. When none of these made any difference, I picked up the phone and called pair.com. In a minute or two I was explaining my problem to Dorrie, who asked me a number of questions and put me on hold twice for a couple of minutes each time. Then she promised to check into it further and respond via email.
About 15 minutes after hanging up I got this email: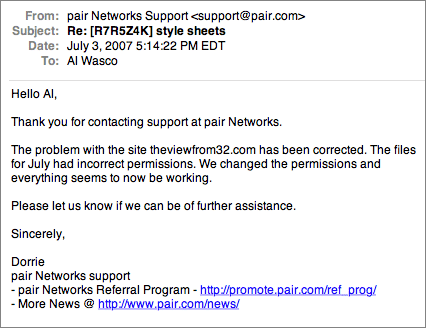 I'm still not sure what caused the problem in the first place, whether it was me, pair.com, or mischievous computer gremlins who screwed things up, but I'm very happy at how quickly they were able to fix it.
TOP | | |
Design your own...reality show?

The reality show craze has finally hit a little too close to home: the AIGA has announced its own version. I'm not totally clear on the concept, but apparently the competitors—who need to be AIGA members under the age of 26—will be solving design problems live on stage during the organization's national conference, Oct. 11-14, 2007. The winner gets $1000 cash and other prizes.
I don't know, is this a harmless adaptation of mainstream culture or pandering to the lowest common denominator? On the one hand, it could be a fun way to get students involved and possibly jump start their careers. On the other, most reality shows thrive on embarrassing and humiliating those contestants who don't do so well. We can only hope there's no Simon on the AIGA's panel of judges.
What do you think about a graphic design "reality show"? Click on "Comments" below to share your thoughts.
TOP | | |
ARCHIVE
JULY
KI to CLE 7/2/07
Lake view 7/2/07
Junk mail 7/1/07
JUNE
MAY
APRIL