Blues benefit
Saturday night at the Beachland Ballroom we paid ten bucks to hear four hours of great blues, and we left before it was over (more about that later). The event was a benefit for the Robert Lockwood Jr. Scholarship Fund, which wasn't talked about much during the concert. I think they could have raised more money simply by asking and maybe passing the hat, but no one did. I chalk this up to musicians not being very good at organizing fund-raisers. Even the $10 admission seemed too low, given that the line-up included Robert Lockwood Jr.'s band, the All-Stars, Crazy Marvin, Travis Haddix, the Don Norman Band, and the Schwartz Brothers, featuring the legendary (for more reasons than his incredible guitar playing) Glenn Schwartz.
The first band up was The Don Norman Band from Columbus. Matt, the guitar player, plays a mean B.B. King type of blues guitar, and the rest of the band sounds good. Unfortunately Matt's voice doesn't have that soulful depth that the blues needs. Still, a band worth listening to.
All-Stars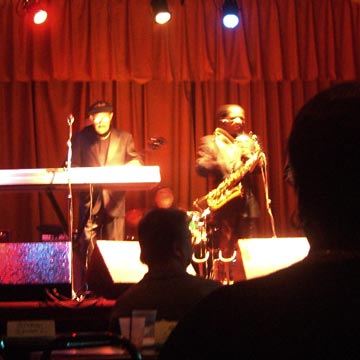 The Robert Lockwood Jr. All-Stars were featured with two sets. The All-Stars play together like a well-oiled machine. They don't bring the house down with their performance, but for a classic blues sound you can't get much better.
In later years at Fat Fish Blue while Robert Lockwood was alive they'd play most of the evening, with Robert joining them on lead guitar for a few songs. Saturday night they played at their usual traditional blues best.
Crazy Marvin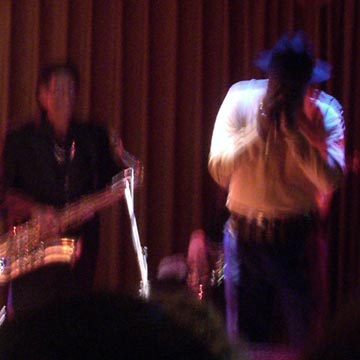 Crazy Marvin joined the All-Stars on stage for a few songs, adding a much-needed harmonica to the group. Marvin's funny intros to each song demonstrated where the "Crazy" in his name came from.
But once he started to play he was dead serious. The guy knows his harp.
Schwartz Brothers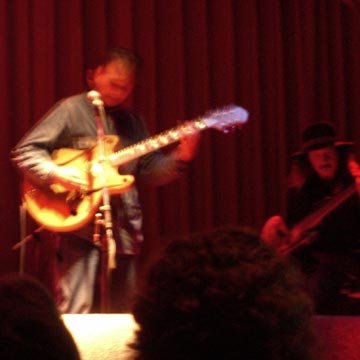 The concert ended with the Schwartz Brothers Band, Glenn on guitar, Gene on bass, and a drummer.
I've seen/heard them at Major Hoople's where they have a regular Thursday night gig. Gene quietly sits and plays bass while Glenn alternates playing and ranting on about Jesus, Hell, and destruction. It's usually worth sitting through, because when he plays it's like a man possessed. At times his guitar-playing definitely brings Jimi Hendrix to mind. In fact, Schwartz was playing on the West Coast with Pacific Gas & Electric around the same time Hendrix was making it big.
Still, even though I know that Schwartz always combines his sometimes-bizarre religious beliefs with his guitar playing, I wasn't prepared for his performance on this night. He started out with several slow religious tunes, played & sung in a style that sounded a lot like a born-again Woody Guthrie.
I kept hoping Schwartz would trade his hollow-body for the solid-body guitar and really let it rip, but he showed no signs of letting up on singing the praises of Jesus. So we left about 20 minutes into the set. If we hadn't been there for close to four hours already we might have been more patient.
You can get a tiny glimpse of Schwartz's mastery of his guitar in this oddly exotic intro to one of his songs:
Top | |