R & R
I slept until almost 9:30 today, enjoying a comfortable bed and a complete lack of scheduled things to do. When I finally dragged my butt out of bed, Mary had thoughtfully started the coffee pot and made sweet potato pancakes for breakfast. I read the LA Times report on yesterday's Vice-Presidential debates while I ate. After breakfast I worked on the website and threw a load of dirty clothes into the washer. By the time I finished it was close to one p.m., so we shared a big heirloom tomato for our lunchtime sandwiches. Nest stop was a nearby Starbucks for internet access to upload the site updates. I've been keeping up with email via the iPhone—very cool—but needed to get online with laptop.
---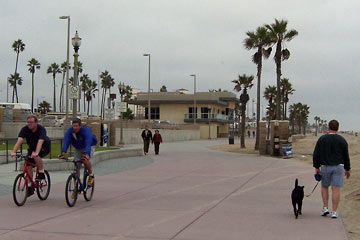 I haven't done any running since leaving Cleveland, so decided to follow the advice of the local newspaper and try the Huntington Bearch boardwalk. This being California and all, I expected it to be teeming with bizarre bikers, bladers, and bouncing beach bunnies, but...bummer...
It looked a lot like Edgewater Park, with palm trees, more surf, and fewer minorities.
Still, the cool breeze off the ocean made for a pleasant run. I enjoyed it so much I probably did a bit more than my usual 4-5 miles. At least I hope so, since I was out for nearly an hour.
---
Far stranger than anything on the boardwalk was what I saw when I parked my rented Ford Focus just a block from the beach.
Oil wells. Quite a few of them. And while I'd seen some in fields near the highway, these were right in the middle of a nice residential area, surrounded by houses.
Apparently Huntington Beach already has adopted a "Drill, baby, drill" policy.
---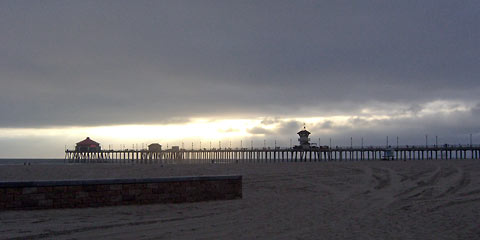 The beach itself was more what I'd been expecting. Here, after a cloudy afternoon the sun broke through for a few minutes before losing the race to a lowering bank of dark clouds.
---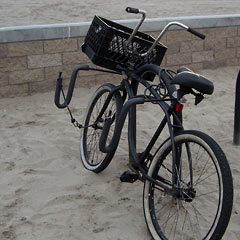 Not many bikes at Edgewater Park have surfboard racks on the side, but they're pretty common around here.
---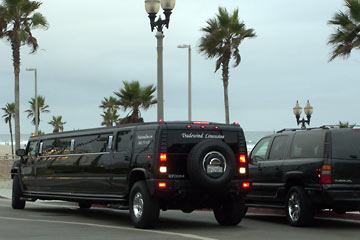 One of those quintessential California sights that makes us Midwesterners shake our heads in disgust: a huge Hummer limo pulled up and about a dozen pre-teens piled out, probably part of someone's birthday party. A minute or two later the black Yukon arrived, carrying one of the parents.
Only in America.

Add your comment by clicking below.
Top | | i