Waffle House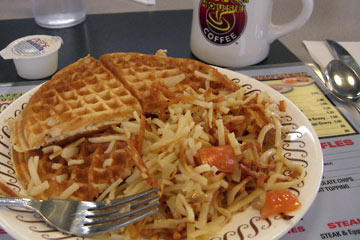 Oh yeah. That's more like it.
Returning from Lake Chautauqua we had to drive through two states before we found a Waffle House for breakfast, but it was worth it.
It's not fine dining by a long shot, but the waffles are decent and the hash browns better than average. Here I've ordered them "Smothered" and "Diced", meaning mixed with onions and tomatoes.
About ten years ago when I was teaching at Herron School of Art and commuting from Cleveland to Indianapolis the Waffle House was my breakfast stop of choice. I'd get eggs and potatoes "Smothered," "Covered" (American Cheese) and "Diced." I'd also take advantage of their free coffee refill to go, since I typically had two or three more hours to drive whether headed east or west.
I didn't realize until today that my grandson Xavier is a big fan also, although he goes for the chocolate-chip waffle, something I've never tried.
So much for my organic, healthy, locally-grown diet—this breakfast was none of those, I'm sure.
I checked the Waffle House website and found none of that pesky nutritional information you might find for other restaurants. But did you know that Hootie and the Blowfish have a CD entitled "Scattered, Smothered & Covered" with a Waffle House restaurant on the cover? I didn't think so.

Add your comment by clicking below.
Top | |