Bye bye, Bob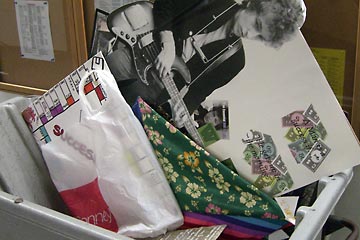 Even though I'm on sabbatical this year, I've been getting increasingly desperate-sounding emails about moving everything out of my office at school so it can be remodeled over winter break.
Since I had other errands to do in Parma today, I decided to visit Tri-C as well. I spent a good part of the afternoon in my office boxing up what I want to keep and throwing the rest away.
The rest includes Bob Dylan, joined here by other Intro to Visual Communication class projects abandoned by their creators. Every semester I tell students I'll hold onto projects for up to a year so they can reclaim them, and about half do. The rest get piled higher and higher in a corner of the office and on top of the bookcase.
I felt bad about throwing them away, especially the ones that show real effort. Those small enough to fit into a box I kept, for the most part, but these bigger ones had to go.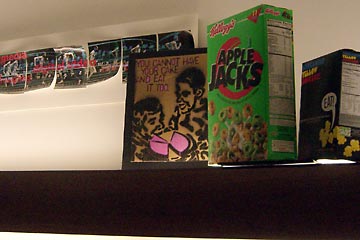 I also carefully folded and packed the boxes of Apple Jacks and Screaming Yellow Zonkers that had lived on top of my light fixture for the past few years.
Being back on campus caused mixed feelings. It was fun to talk with friends and colleagues I haven't seen for months. It was a lot less fun to hear about the internal politics and administrative changes that I'll be dealing with again, all too soon.
I was very happy to walk to the parking lot and leave it all behind.

Add your comment by clicking below.
Top | |