'54 Corvette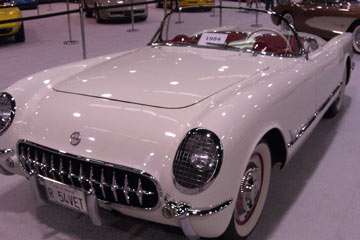 This one might have started it. I went through a serious infatuation with cars that peaked during my high school years. I wanted to add cruiser skirts and moon hubcaps to my dad's '59 Ford Galaxie, but unfortunately he wasn't having any of it. He did let me paint the wheels Candy Apple Red, though.
It started when dad won a new car in a raffle. He didn't believe the guy who called late one night with the news, but sure enough he'd won a '54 Chevy. A plain Jane Chevy coupe that he not only had to pay taxes on (you never think about that aspect of winning) but he had to pay even more to upgrade to four doors, a radio, and a two-tone paint job. Back in those days they raffled off the cheapest model, not the fully-loaded one.
When we went to the dealer to pick up the Bel Air there was a white Corvette convertible in the showroom, just like this one at the Orange County Auto Show. It was without a doubt the coolest thing my 7-year-old eyes had ever seen. From then until college I lusted after my own Corvette. I could have gotten one, as it turned out, but my priorities changed.
My parents really wanted me to stay in Cleveland for college and promised if I got a full scholarship to a local school they'd buy me a Corvette. As it turned out, I was offered a full scholarship to John Carroll University in Cleveland. I took a half-tuition scholarship to the University of Dayton instead. It was 1965, and geting out on my own was more important than having a cool car. Having been a totally goody two-shoes teenager, this was my declaration of independence.
Smartest thing I ever did.
---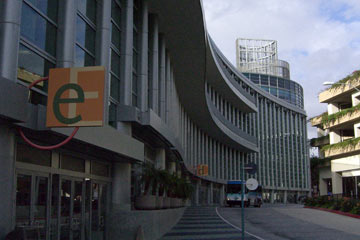 The Corvette was one of many cars on display at the Orange County Auto Show held at the Anaheim Convention Center. The building is pretty generic modern, and the show was too. Somehow I thought that it would be filled with concept cars, "green" vehicles, and stuff that I might not be able to see in Cleveland.
Not so. It was your basic car show with large displays from all the major manufacturers and a few special features like a sample of each year's Corvette from '54 to the late '90s. Here and there a statuesque blonde model stood next to a new car on a rotating turntable and tried desperately to make its features sound interesting.
At the Toyota/Scion display a couple of "hip" young people were equally unsuccessful at getting bystanders to take part in an extremely lame version of the "Electric Slide."
I've gone to quite a few of these shows over the years and never felt such a total disconnect between the world inside the hall and the world outside. Sure there were a few token hybrids here and there, but still most manufacturers were pushing horsepower, speed and cool features. There was a certain Titanic-like atmosphere of steaming ahead to our doom. We know the iceberg is out there, why aren't we trying to change course?

Have you ever loved a car? Add your comment by clicking below.
Top | | i