Chicago, heading west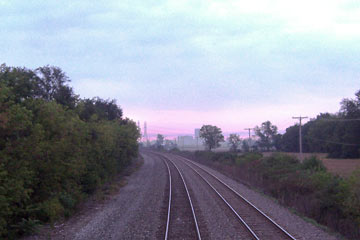 Sunday morning sunrise, looking out the back of the train.
After a rough ride—sitting in one of the last seats in the last car on the train seems to magnify the swaying and jerking—we pulling into Chicago right on time.
I checked my suitcase through to Lamy, NM rather than pay $9 to check it in a locker at Chicago Union Station. I've got everything I need, including a change of clothes, in my backpack. Unfortunately with my laptop, camera charger, books and papers, a blanket and more, the pack weighs a ton. Oh well.
It took four tries, but walking from the station toward the Art Institute I eventually found a drugstore with a blow-up travel pillow. The one I thought I packed must have been lost in the duffel bag-to-suitcase shuffle I did last night. I'm hoping that the pillow will help me get more than four hours of fitful sleep tonight.
I shared a seat for a few hours with a young guy who lives on a mountaintop in West Virginia. He emphatically declared that he wouldn't live in the city "if you paid me $100,000 a day." Seemed to be a nice enough guy whose goal was to run a mining machine—"the most dangerous job in the mine"—for about $40 an hour. And live where he can "walk out on my porch and shoot me a deer." It's a whole different world out there.

Add your comment by clicking below.
Top | |