Working, just not very hard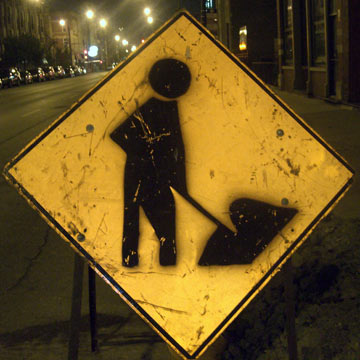 I'm not going to make any judgment about how hard road workers in Chicago actually work, but this sign near where we parked going to dinner one night makes me wonder.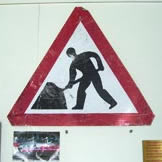 The typical "Men Working" road sign, like the one from London now on my office wall, shows a guy actively attacking that pile of dirt. There are many variations, and nearly all show more activity than the Chicago worker who seems to be happy just standing alongside.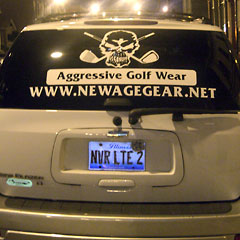 Maybe in Chicago (I've talked about our recent visit here, here and here) they save their energy for a fierce round of golf, an impression you could easily get from this sign on a car about ten feet from the road sign.
—> Other Chicago 2008 pics & stories: Reading Matter(s); Signs & Fines; Indiana Dunes; Logan Square

Seen any interesting signs lately? Add a comment and/or read others by clicking below.
Top | |