DECEMBER 20, 2008
Interesting, but is it Art?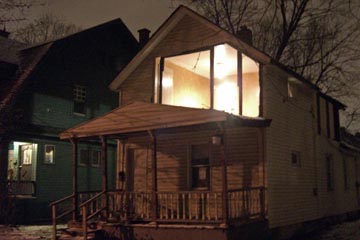 An email came today inviting us to an opening reception for an outdoor installation by Czech artist Martin Papcún. Since the address was only a few blocks from our house Joanne & I walked to West 45th Street to see what was described as:
a project that captures the meaning of the home as a source of protection and shelter, a place for intimacy, a keeper of dreams and memories, and how these structures can deteriorate over time when abandoned or when families are forced to move out.
We accepted the artist's invitation
to be onlookers as well as provide them with the opportunity to identify with the intimate spaces strategically exposed from his deconstruction.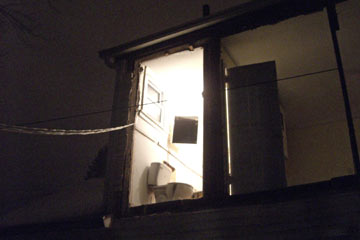 When we got there, a few minutes before the scheduled 7:30 end of the "reception" there were a few people standing across the street talking. A small table held cups and a large thermos.
Then there was the installation itself, looking like a house partway through a much-needed rehab. The interior lights were turning off and on at regular intervals. Large sections of wall on the front and side were open to the elements.
While I appreciate the artist's intention of commenting on the foreclosure crisis and how it affects Cleveland families, I'd say this installation misses the mark. It looks like an old house in the midst of a major rehab, something we see frequently in this neighborhood. Most contractors don't leave big chunks of wall open for more than a day or two, but I'd bet that we could walk around and find something fairly similar looking without trying too hard. Putting lights inside isn't enough to make it Art.
There's a famous quote by Russian critic Viktor Shklovsky that says the purpose of Art is "to make one feel things, to make the stone stony...The technique of art is to make objects "unfamiliar." Papcún's installation fails to meet this standard. I've walked down West 45th Street many times, and without the flashing lights as a tip off I'd have walked right by the house...um, installation.
Context is critical to how we understand things. In the context of my neighborhood, this "deconstructed" house is utterly unremarkable. Deconstruct a McMansion in Pepper Pike and the message that something is not right here would be much clearer.
Happy Winter Solstice!
Tonight is the longest of the year—from now until June the nights will begin to get shorter while the days get longer. Scroll across our home page and watch the heights of the images—they get smaller later in the month because they are based on the length of the day. Starting tomorrow they will gradually get larger and larger (if you're interested in the details, one pixel=3 minutes).
Top | |