A Cleveland day
I walked downtown to have lunch with a friend today—2.5 miles each way—figuring this would be nearly as good as running five miles. It was cloudy and cold with a strong wind swirling from different directions. There were occasional breaks in the clouds that revealed a brilliant blue sky, but the sun I kept hoping for never showed its face.
Looking north towards Lake Erie you see one of those tantalizing bright spots that kept me hoping for sun all day.
I tied my hoodie to keep my ears from freezing when the wind was in my face. I was also glad I'd brought gloves even though I hate to admit it's cold enough to need them...trying not to admit it's almost winter.
After lunch I walked back via CSU and Bonfoey Gallery where I saw the excellent show of photos by Andrew Borowiec and Garie Waltzer called Industry and Community.
Most of the downtown, Flats and neighborhood scenes were familiar. Many I've photographed myself. But Andy and Garie each bring a higher level of technical and artistic accomplishment to their images, some of which were gorgeous.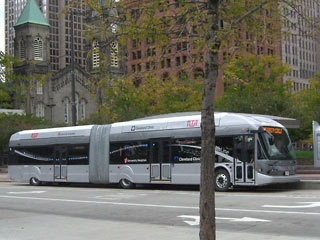 Downtown on Public Square one of the spiffy Health Line buses I mentioned a couple of days ago was waiting to swing around the square. They're big, but are fuel-efficient and low-pollution hybrids. Let's hope the technology can handle Cleveland winters.
---
After supper Joanne and I went to Wilbert's downtown where the Obama campaign and several Cleveland blues bands had put together a free concert.
We missed one of our favorite groups, Cats on Holiday, but heard great music from Blue Lunch, the Wallace Coleman Band, and finally Crazy Marvin.
Offstage Crazy Marvin walks like someone who's well past his prime, but once he hits the stage he performs with twice the energy of most guys half his age. Wearing a belt full of harmonicas, Marvin plays and sings the blues with an infectious sense of humor. You'll see what I mean in this short clip.

Add your comment by clicking below.
Top | |