Heading East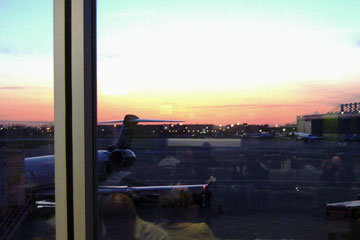 After going to bed at 2 a.m., the sound of the alarm clock at 5:30 wasn't a welcome one. We got up, Joanne seeming much cheerier than I, and took a pre-dawn trip to the airport. Looking east from the waiting area in Concourse A, the sun isn't even up yet.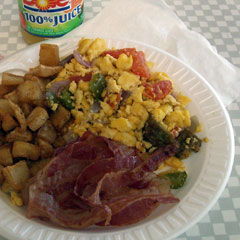 The flight to Philly, layover and short hop to Manchester were fine. With more than two hours to wait, I ordered a Western Scramble with bacon. The eggs, peppers, etc. were reasonably good for steam table food, but the "homefries" were dried out deep-fried pieces of potato. I left some on the plate, unusual for a potato-lover like me.
The Embraer 175 jets are noticably bigger than the ones Continental flys on the Cleveland-Manchester route, almost spacious. while I was eating a snack in the Manchester airport I faintly registered a phone ringing. Four rings later it hit me that it was Joanne's phone in my pocket. It was Sharon calling, on the road from Lowell, so I made plans for her to pick me up rather than taking a taxi as I'd planned.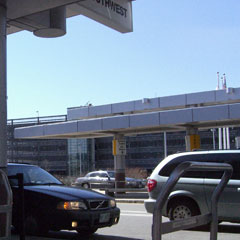 The sun was shining in Manchester and while I waited for Sharon to pick me up I found a sunny spot outside the terminal. I sat cross-legged on a big boulder and soaked in the sunshine. Nice.
Top | |