University Circle
I painted the side entrance steps and mowed the front grass today, trying to tidy things up before I leave for our two week European tour. Thinking about old friends we'd be visiting, I wanted to get some "Cleveland" gifts to take. The Art Museum seemed as good a place as any to find them, so around 3 pm I headed up to University Circle.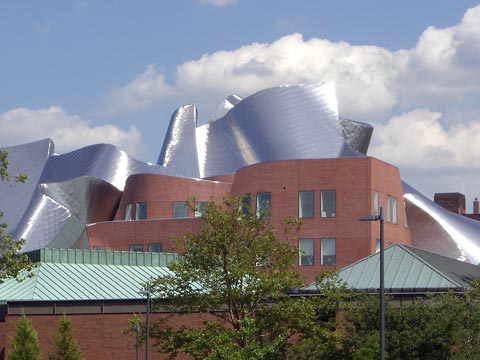 The museum was great—like seeing an old friend—but more about that later.
I had to take a picture of the most striking structure in the Circle, the Peter B. Lewis building at Case Western Reserve University designed by Frank Gehry.
In the sun, the stainless steel roof is spectacular, exploding above everything around it. In this picture the green roofs of the CWRU law school in the foreground look old and timid compared to the energy busting out from the Lewis building behind it.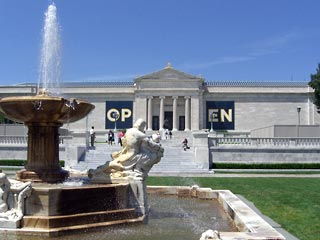 Meanwhile, back at the Art Museum, I walked around to the lagoon so that I could go in through what used to be the main entrance (before the parking lot and Marcel Breuer-designed addition were built in 1970).
Walking up all the marble steps in the blazing sun was as hot as ever, which made entering the cool and relatively dim galleries all the more enjoyable.
The renovation that's taken several years has resulted in a museum that's the same yet different. It feels brighter and lighter than it used to, yet it's still the Cleveland Museum of Art. I expected the renovated galleries to seem totally new—and I'm sure that every square foot has changed in some way—yet they seem familiar. I guess this is a good thing, but I'm not sure. I'll have to go back another time or two before I'll feel confident in my reactions.
Oh, as for the gifts, I came away with a colorful shirt with Paul Gauguin artwork on it but not much else. There were surprisingly few items based on the Cleveland collection. I'm hoping that this will change when the renovation of the museum is complete, since I'm sure it will include an expanded gift shop.
Top | |