Today
New content here. Or maybe not. It's late and I'm tired.
It was a good day at school today, seemed like most of the students were actually paying attention, getting involved in the discussions, etc. Maybe actual learning was taking place. Makes my job a lot more satisfying. Not every day is like that.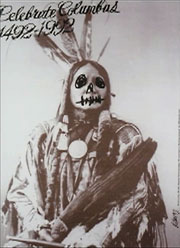 In Media Design we've been watching many of the short videos about designers by hillman curtis. It's a good way to get a very personal overview of American (graphic) design. We've done Sagmeister, Carson, Scher, Glaser, and Victore.
Today we watched Glaser first, then Victore, who designed the Columbus Day poster at right. The wise, philosophical veteran and the young(ish) rabble-rouser.
Glaser amiably discusses how design is similar to the traditional gift economy used to keep people from killing each other: "[artists] create commonalities, things to gather around."
Victore says: "Graphic design is a big fuckin' club with spikes in it, and I want to wield it!"
Yet strangely enough they share and express a strong belief in the importance of designers taking a position and playing a role in making society a better place.
Top | |