Another Tuesday
Tuesday nights are long ones as the Portfolio Preparation class gets closer and closer to our end-of-the- year show. The students have their own work to get ready for their individual portfolios, plus we need to organize and promote the group show, held at a downtown location.
The postcards were printed and mailed last week and the website (www.GreenerHere.com) is pretty close to finished. Posters are on the way, too.
The overall message is... well, here, just watch the video:
We hope to see you on May 9th and 10th!
Earlier postings about the development of the show theme:
Jan. 29 | Feb. 5 | Feb. 19
Mar. 25 | Apr. 10
Mr. Peanut & Al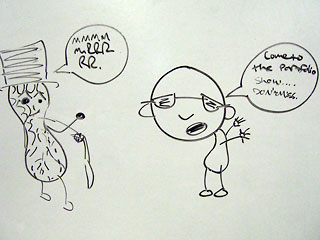 Hey, I don't know what it means either... a message left on the whiteboard after class. The cleaning people were reluctant to remove it, but I gave them the OK.
Top | |