Observing the Fall Equinox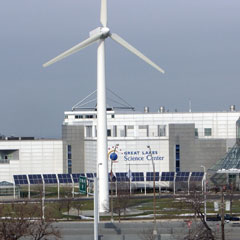 After dropping off a job at the client's around noon I decided to take advantage of the relatively warm and sunny day and walk around downtown a bit. I was on West 6th near Lakeside, so I walked east toward Browns Stadium and the Great Lakes Science Center.
I enjoy watching the wind turbine in front of the Science Center—makes me feel like maybe we will eventually start to use the wind as a power source.
Since the Amtrak station is in the same area I decided to stop at the station and pick up a national route map and info on rail passes in case my sabbatical application is approved for next year. If so, I'll travel by train as much as possible, especially the longer distances like LA, Portland, and Vancouver.
The new deal is that you buy a joint US/Canada pass that has to include at least one segment in each country. So while I'm in the Portland area, why not head up to Vancouver, then maybe back across Canada, taking me through Banff, one of the most spectacular sections of the Rockies.
So after getting a handful of schedules and price information from the train station I walked across the highway to the base of the turbine.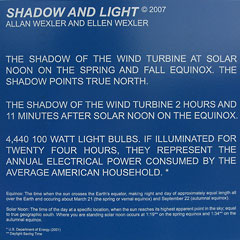 The blue sign on the tower explained that at solar noon on the Fall equinox the shadow would line up with the concrete "shadow" in the grass. It was 11 a.m., so I decided fate wanted me to see if it really happened.
With close to an hour to go, I walked up East 9th to the Galleria, browsed there a bit, bought a hot dog and strolled back out onto 9th street to see a clock that showed noon exactly. Church bells were chiming too.
So despite the barely digested hot dog bouncing around in my stomach I jogged down the street, across the parking lot behind City Hall, down the stairs to the stadium and up the road to the turbine. The shadow didn't quite line up. Damn.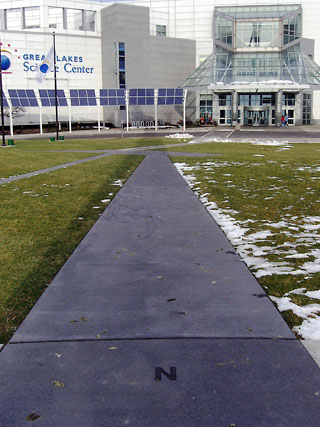 I read the sign more closely, though, and found that solar noon was to arrive at 12:19 pm, so I got the camera out and waited. Then the sun went behind the clouds. Fortunately, though, at 12:19 it brightened up enough to see the shadow.
You can see that its right edge is exactly on the concrete strip even though the real shadow is wider than the one in the grass. The artists chose to foreshorten their version so that the turbine blades fit on the grass. In actuality the shadow of the blades is being cast on the building, straight ahead on the lower part of the wall.
We're looking true north here.
Top | |