DECEMBER 25, 2008
Christmas Day
Since our kids were little—a long time ago—we've observed a Christmas tradition of drinking hot chocolate at midnight and reading two short stories: Luke 2, 1-20 from the Bible, and The Night Before Christmas by Clement Moore.
The hardest year was when Sharon was 16 and in Denmark for the year. The three of us at home acutely felt her absence, as I suspect she did ours. Now both of the kids are grown and on to family traditions of their own, and it's not the same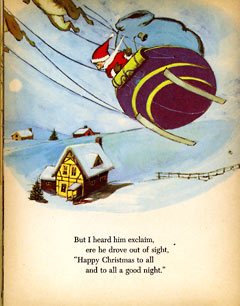 anymore.
Still, when midnight rolls around we—mostly me—feel compelled to hunt up the Bible that doesn't get opened on any other day, and the tattered, faded copy of Moore's book.
In a world where everything changes and we have no choice but to go along and make the best of it, there's something to be said for keeping a least a few things constant.
So here's my Christmas wish to you, favorites lines from each of the stories:
"...and on Earth peace among men of good will."
"Happy Christmas to all and to all a good night."
Top | |