Jerry Lee's night
Every year the Rock & Roll Hall of Fame honors someone they call an American Music Master (not the same as the PBS American Master series, but similar).
Part of the festivities each year is a live concert featuring performers who've been influenced by this performer.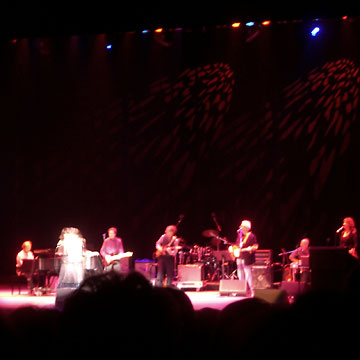 Last night we went to the concert for the 2007 winner Jerry Lee Lewis—at 72 years old, the first living honoree. He sat in the front row and heard performer after performer—from Sleepy LaBeef to Chrissie Hynde, Wanda Jackson to George Thorogood—talk about the huge influence he'd been. Most ended with "I love you." Kris Kristofferson added "In a manly way, of course."
After all that it must have been intimidating performing the man's music in front of a thousand people including The KIller himself.
That's the best explanation I have for Chrissie Hynde's oddly down-tempo and restrained version of Whole Lotta Shakin' Goin' On. If ever a song called for her punk-influenced attitude, this was the one.
After she finished and the curtain fell, Jerry Lee Lewis slowly walked onto the stage to receive his award. He said a few words, then there were several moments of confusion and conversation between him and Kris Kristofferson, the emcee. Finally the curtain was raised to reveal all the previous performers on stage again.
Jerry Lee walked over, sat down at the piano and did a poignant Somewhere Over The Rainbow:
This ended the evening. In year's past there would have been a rousing final jam session with everyone on stage, but either out of respect or by design the curtain came down when Jerry Lee finished.
---
Previous Rock Hall American Music Masters:
Roy Orbison (2006)
Sam Cooke (2005)
Leadbelly (2004)
Buddy Holly (2003)
Hank Williams (2002)
Bessie Smith (2001)
Muddy Waters (2000)
Louis Jordan (1999)
Robert Johnson (1998)
Jimmie Rogers (1997)
Woody Guthrie (1996)
Top | |