Not just for girls anymore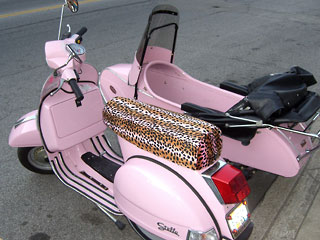 You've got to be very secure in your sexual identity to be the man—yes, it was a man—who rode down Detroit Ave. on this baby. It's a more dramatic statement than the girly truck I saw in Parma, and makes the purple & yellow steel-hauler look positively macho.
We were having dinner with friends at the new Luxe Kitchen near West 65th & Detroit when two guys rolled up and parked in front. It was hard not to stare, but then I guess they're used to that.
Top | |

Feel-good music
On Saturday morning I made a quick trip to the West Side Market. I thought I was meeting a friend at nearby Talkies Coffee but apparently only one of us remembered. No problem—I got to enjoy one of my favorite local groups, the Prayer Warriors, who were playing at Market Square Park.
The Warriors are sort of Gospel, but they do mostly secular songs with an uplifting message and an infectious beat. They call it "Inspirational Groove." First I heard the reggae classic "No woman no cry," followed by a few Motown-influenced numbers.
I'm not a fan of Gospel music, and if the songs were about Jesus I couldn't tolerate more than one no matter how well they were performed. But the Prayer Warriors just make you feel good.
Sitting on a park bench, soaking up the sun and the music... what's not to like about that?
Top | |