Roughing it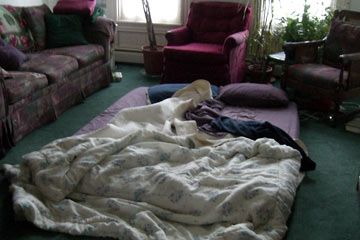 Yesterday ended differently than I'd planned. Joanne and I slept on a mattress on the living room floor because there was no heat upstairs while the outside temperature was about 30 degrees.
Things began to go bad shortly after supper. I went to start water in the tub for a bath and noticed a small puddle on the hall floor. Looking up, I saw water dripping from the ceiling. That's never a good thing.
I ran upstairs to find more water dripping from the second floor bath ceiling. It was pretty obvious that our third floor hot water heating system had sprung a leak. Sprinting upstairs to the attic I could hear water spraying inside the small boiler room. I opened the door to find water shooting from a pipe above the boiler, the floor soaked and water dripping down through the walls below for who knows how long.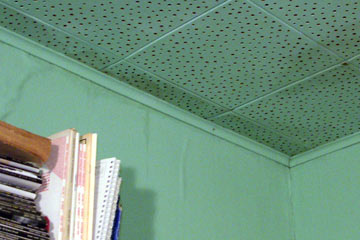 Long story short, I shut off water, gas and electricity to the attic and we began sopping up water on the other floors.
My second floor office right below the boiler room got the worst of it. I spent the next several hours moving damp books and papers to a dry location, pushing furniture aside, then running my carpet cleaning machine over the carpet to suck the water out of it. Again and again.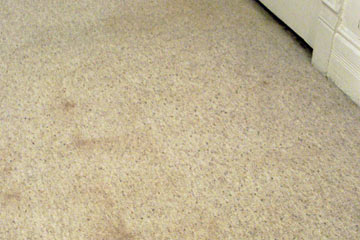 The plumber came today, and 24 hours later things are more or less back to normal. I kept an electric space heater running all day in my office and the carpet is almost dry.
Brown water stains on the carpet and ceiling above are reminders of how lucky we are to have caught this relatively soon. As I was throwing out water-logged magazines and stacks of paper it occurred to me that after a hurricane or flood the whole house would be like this small corner of my office.
A sobering thought. Just this little brush with disaster gave me a renewed appreciation for routine days when everything works as expected. There's a lot to be said for that.

Add your comment by clicking below.
Top | |