Vote Obama/Biden on Nov. 4th, 2008
Designers for Obama
The design community has rallied around Obama in a big way. Blogs and websites have discussed the campaign nearly to death. One article called Obama's use of design in his campaign "a sort of coming out party for the profession." The New York Times (among others) did an analysis of each candidate's chosen typeface as well as their websites. For an overview of design and the campaign, see Democracy, Designers and Obama.
Here are a few websites worth checking:
Palin as President?
For a light-hearted look at what life in the Oval Office would be like with Sarah Palin behind the desk, go to PalinAsPresident.us. Click on everything in the room for funny surprises. Thanks to Sean Ohlenkamp and friends for this interactive commentary.
30 Reasons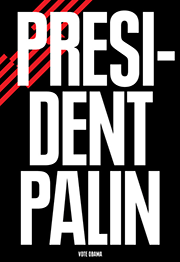 The 30 Reasons website is pretty simple: 30 designers present 30 reasons to vote for Barack Obama. The posters are thoughtful and well designed. You can download and print them free in either 8.5 x 11" or 17 x 22" sizes.
Design/ers for Obama
Similar to 30 Reasons, above, Design/ers for Obama offers posters designed by lots of folks, some great, some less than great. The quality overall isn't as good, but you're likely to find at least one that really says what you believe.
You can download a free pdf that will let you print multiple sheets to assemble a big (17 x 22") or huge (25.5 x 33") poster.
Old-school campaign ad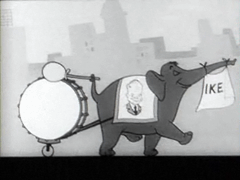 If at this point you're fed up with the current election, take a look back to 1952 when Eisenhower ran this charmingly dopey "Ike for President" ad with its cartoon elephant banging a drum for the candidate. Hard to imagine that this would have been considered appropriate, but at the time TV was still a largely untesting medium for political advertising.
It didn't stay charming for long.
The Museum of the Moving Image website lets you see for yourself how political TV ads (both Democrat and Republican) have changed from 1952 to 2008. Whether the change has been good or bad is up to you to decide.
An indication of just how much things have changed: today a YouTube search for "Obama for President" turns up 110,000 videos (for McCain, 69,000 videos).

Is your profession talking about Obama? or McCain? Add your comment by clicking below.
Top | |