Good choices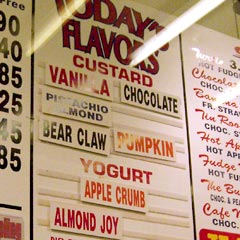 The frozen custard season is nearly over. East Coast Custard will be closing for the winter on December 9th, a little more than a week from now. That's the bad news. The good news is that with colder weather there are fewer customers, meaning that they don't sell out of the daily flavors every day.
On a hot summer day, by the time I get there after class the menu board may list only one or two flavors each of custard and yogurt. Today, with the temperature in the 30s, there were five custard flavors (Bear Claw is good, but I had it yesterday) and my favorite yogurt, Almond Joy. Gotta like that.
Here's what things looked like in the Spring. Here's the menu on a March day. And at the drive-through in October.
So you can see I'll miss the place in those long dark winter days from Dec. 10 to March 1st.
Top | |